Out of $3 trillion in submitted medical claims, an average of $262 billion gets denied each year by healthcare organizations. That is around $5 million per provider.
Around 65% of medical claim denials never get resubmitted. This also includes denials regarding commercial health plans. Medical denial clams are an ongoing issue in the U.S. and the health industry is continuously looking for a solution to the problem.
The following medical claim denial data and statistics are taken from the Centers for Medicare & Medicaid Services, the Kaiser Family Foundation, the American Medical Association, the American College of Healthcare Executives, and the Healthcare Financial Management Association.
Table of context:
Why Do Health Plans Deny Claims?
According to the American Medical Association, medical claim denials are increasing. In a recent survey, 30% of doctors reported that they had experienced an increase in denied claims over the past year.
The reasons for this increase can be attributed to several factors. For example, the Affordable Care Act has made it more difficult for providers to submit claims electronically and has forced many practices to adopt electronic medical records. Additionally, it's estimated that about half of all physicians' bills are paid using Medicare's fee-for-service model, which is known for having a high denial rate.
The average medical claim denial rate across all types of health insurance plans ranges from 3% to 5%. This number however varies significantly depending on the type of health plan.
For example, Blue Cross Blue Shield (BCBS) has one of the highest average claim rejection rates at 4%, while Aetna and Humana only deny about 2% of their claims each year. On the other hand, United Healthcare has one of the lowest average claim rejection rates at less than 2% per year.
The Centers for Medicare & Medicaid Services (CMS) collects data from private health insurers and publishes it online. The data shows how many medical claims were denied based on their diagnosis code and other factors.
In 2018, CMS reported that 30 percent of all claims were denied. This number has steadily risen over time as more patients seek treatment from providers who are not in their network or who are out of network with their insurer.
In-Network Claims Denied by Reason (2020)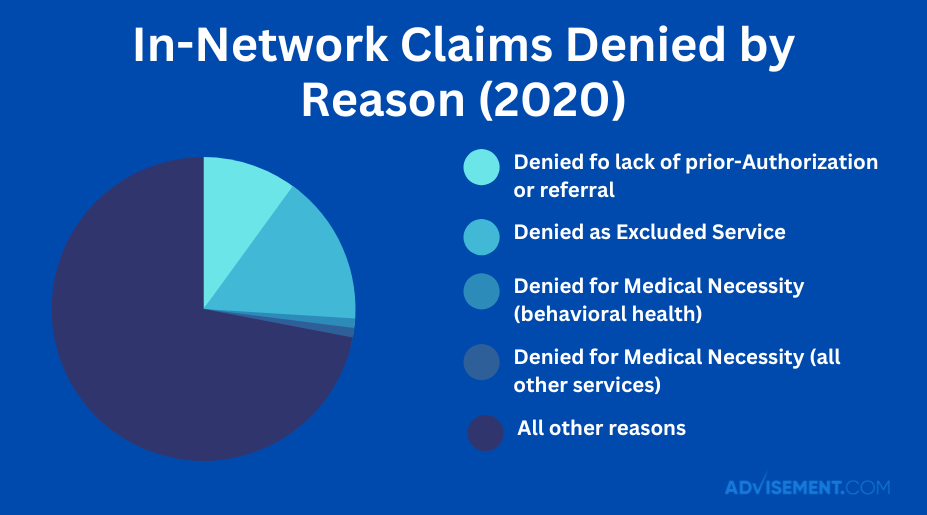 | Total Denied in-Network Claims | 36.3 million |
| --- | --- |
| Denied fo lack of prior-Authorization or referral | 3.6 million (10%) |
| Denied as Excluded Service | 5.9 million (16%) |
| Denied for Medical Necessity (behavioral health) | 151,000 (1%) |
| Denied for Medical Necessity (all other services) | 611,000 (1%) |
| All other reasons | 26.5 million (72%) |
Medical Claim Denial Appeal Rates
The appeal process is a crucial step in the medical billing and coding process. Unfortunately, it's also one of the most frustrating. The good news is that there are specific appeal rates for medical claims denials. These rates vary according to the type of health plan you have and the state in which you live.
Medicare Part A's denial rate was just over 6 percent in 2016, while Medicaid's denial rate was 4 percent, according to the National Health Expenditure Accounts (NHEA). Medicare Advantage Part C has an average denial rate of about 15 percent, according to a recent report by Milliman Inc., a consulting firm for healthcare organizations.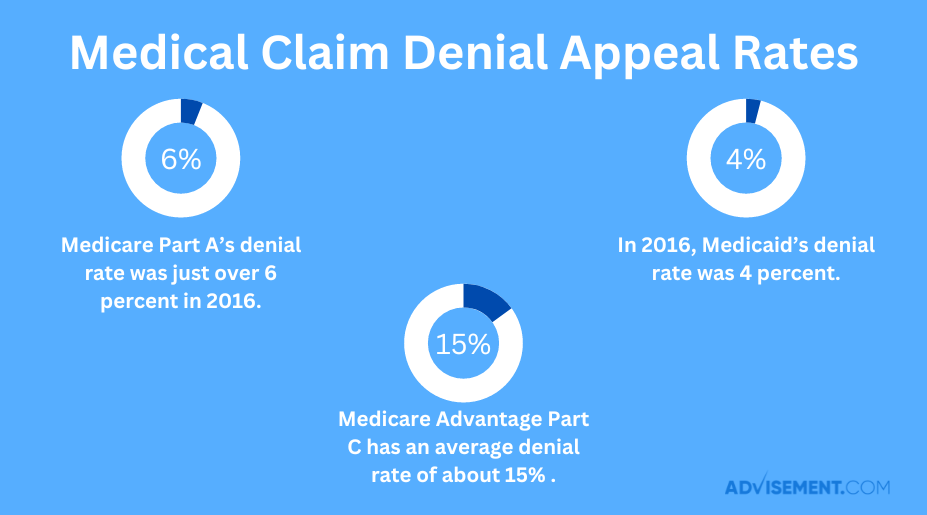 Private health insurance plans generally have lower denial rates than Medicare or Medicaid do — especially if they are HMOs (health maintenance organizations) or PPOs (preferred provider organizations).
The appeal rate for medical claims has been increasing over the years. In 2004, medical claim denial rates were at about 30 percent. By 2017, it was up 40 percent.
On the bright side, 90% of all medical claim denials can be prevented. More than 33% of prevented denials can be appealed successfully. Another 33% of preventable medical denials are missed opportunities where the financial loss can no longer be recovered.
From 2018 to 2020, the average success rate for provider medical claim denials dropped from 56% to 45% according to a recent Advisory Board Survey. When it comes to denials regarding Medicaid, rates dropped from 51% to 41%.
Appeals are challenging. Not only are they expensive, but they are the longest route to gather the amount that is due. A good example of this is that if a person's denial is appealed in an emergency department, the cost for this appeal will be low. This is mostly because it's much simpler to identify the given healthcare within the short time of the patient's emergency department visit.
This is not the case if the patient's medical claim is denied after a long stay in the hospital. In this case, appealing the denial can be difficult. Even if the claim denial is won after appeal, it's still the costliest way to collect on the denial.
Medical Claim Denials by Location
Medical claim denial rates vary by location. The medical claim denial rate by the state is a measure of the frequency with which private health insurance companies deny claims for medical care rendered by providers in different states. It is based on data from America's Health Insurance Plans (AHIP), an industry trade group.
The states with the highest claim denials were Indiana and Mississippi, both having a 29% denial rate as of 2020. The states with the lowest denial rates were South Dakota at 6% and Oregon at 7%.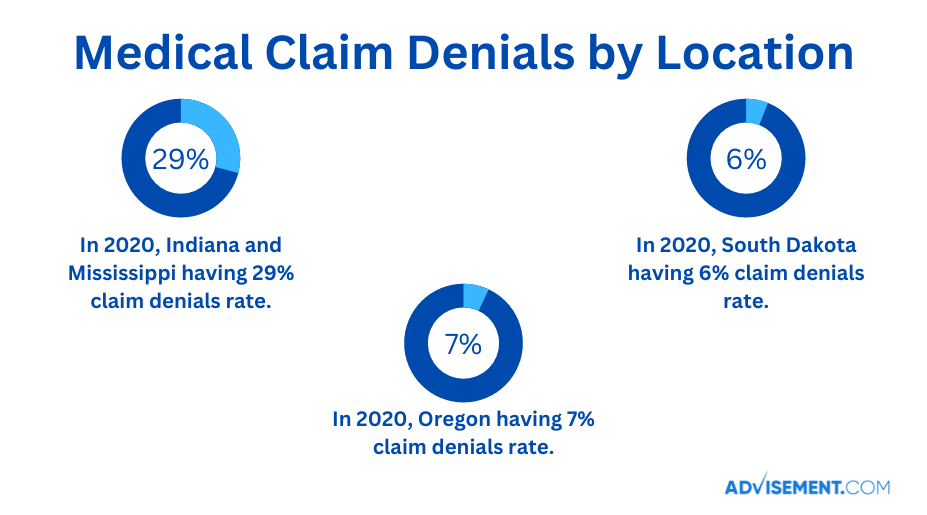 Marketplace players with the highest medical claim denials included Celtic in states such as Missouri, Tennessee, Arizona, Indiana, and Texas in 2020. Molina was second highest in states such as Mississippi, Ohio, Missouri, Utah, Wisconsin, and South Carolina, Ambetter in North Carolina, QualChoice in Arkansas, Meridian in Michigan, and Oscar in Florida, Mississippi, Arizona, Missouri, Tennessee, Virginia, and Texas.
Denied Claims For Behavioral Health Services
The Affordable Care Act (ACA) has made it possible for millions of Americans to get health insurance. However, there are still many gaps in coverage that leave some people uninsured and others under insured. Behavioral health services, such as counseling and therapy, are one example of an essential service that is often excluded from coverage.
Denied claims for behavioral health services are common. The National Council for Behavioral Health reports that more than half of all mental health claims are denied. In 2020, The NAMI Mental Health Reform Advocate says that about 70% of all patients who receive treatment for mental illness have their claims denied by insurance companies.
In 2015, 56% of all claims for behavioral health services were denied. The most common reason for denial was a non-medical necessity with a 51% rate, followed by inadequate documentation (32%).
The Centers for Medicare and Medicaid Services has reported that in 2016, there were more than 1.4 million denied claims for behavioral health services. The most common reasons for denials were "incorrect or missing diagnosis code" and "incorrect or missing procedure code."
Final thoughts
Overall, most people have received a medical claim denial at some point in their lives. But that doesn't mean you can't fight back. If your medical claim has been denied, there are many options available to you, and treating the underlying cause of your medical bills can be just as important as treating the symptoms. Most importantly, as consumers, we need to be informed about potential complications with our health plans and how we might best avoid them.