About 44% of Americans are in debt over auto loans. Between 2017 and 2018 alone, American loans totaled 568.6 billion dollars. These are unhealthy signs for the economy and also increase the number of car repossessions across the U.S.
This article reveals the most accurate and up-to-date car repossession statistics in order to spread awareness of the matter.
How many people get their car repossessed?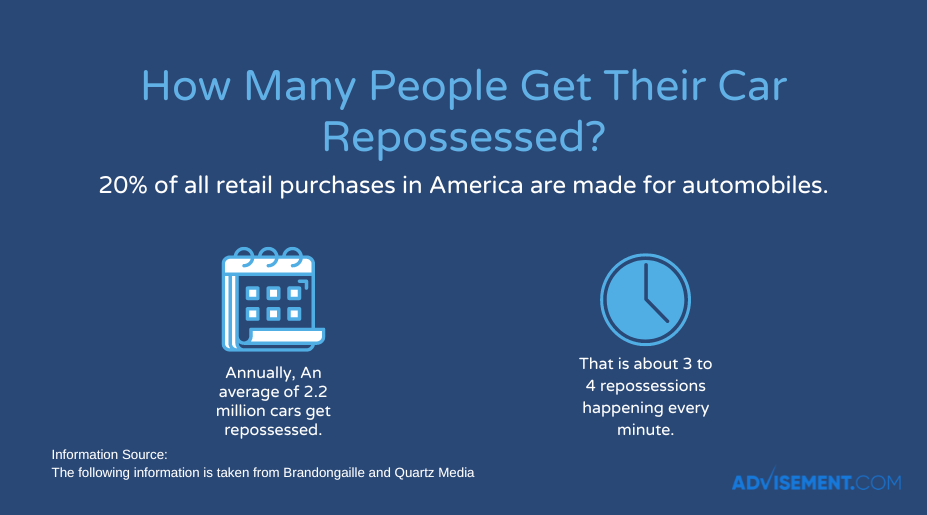 The following information is taken from Brandongaille and Quartz Media
An average of 2.2 million cars get repossessed annually. That is about 3 to 4 repossessions happening every minute. According to Brandongaille, 20% of all retail purchases in America are made for automobiles.
Considering that almost half of Americans have taken a car loan, it comes as no surprise that auto debt has grown into trillions in 2022.
Is repossession increasing?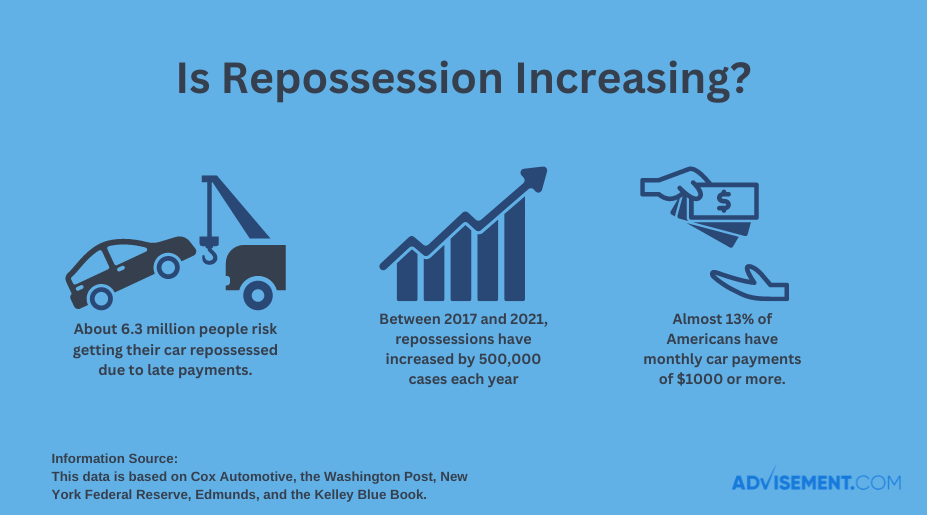 This data is based on Cox Automotive, the Washington Post, New York Federal Reserve, Edmunds, and the Kelley Blue Book.
Americans are losing their creditworthiness mainly because of the unsustainable vehicle debt acquisition. If this continues to progress, then car repossession will be on the rise. According to data taken from Cox Automotive, there were 100,000 more cars repossessed in 2017 than in 2016. This number has only increased in the following years.
About 6.3 million people risk getting their car repossessed due to late payments. It takes an average of 90 days of failing loan payments for lenders to repossess a vehicle. Repossessions have increased with an additional 500,000 cases each year between 2017 and 2021.
The average price of new vehicles rose 13.5% in the last year. This led to an increase in monthly car payments. According to Edmunds data, almost 13% of Americans have monthly car payments of $1000 or more.
Frequently asked questions about car repossession
Why are so many cars getting repossessed?
The leading cause why car repossession is increasing is because of the rise in automobile prices during the pandemic. Since dealers were unable to meet the demand of buyers, prices rose significantly. This made it harder to keep up with auto payments.
What state has the most car repossessions?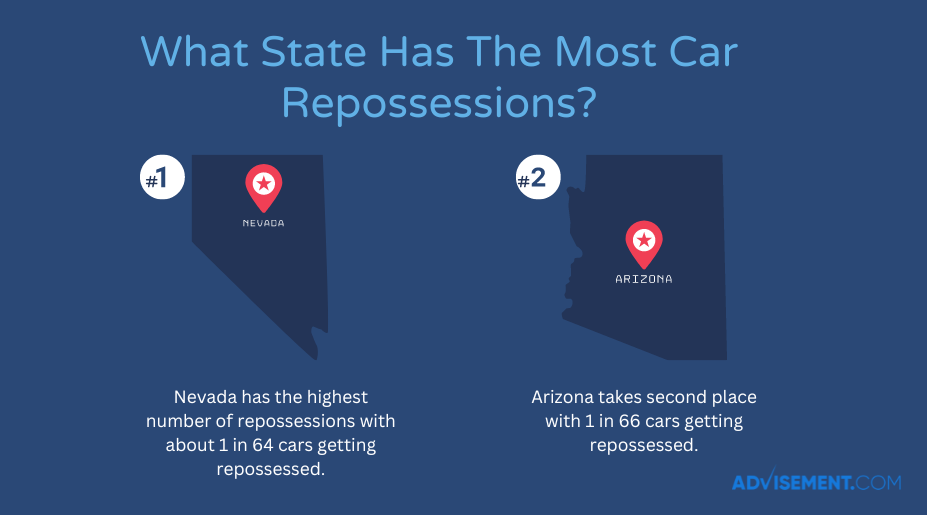 1 in 172 auto loans results in repossession. Nevada has the highest number of repossessions with about 1 car repossession with every 64 car loans taken. Arizona takes second place with 1 in 66 cars getting repossessed.
What is the percentage of repossessed cars?
Car repossessions in 2021 have increased by 11% when compared to 2020.
A summary of key insights + statistics
5400 repossessions happen every day.
The average repossession time is 90 days after a failed loan payment.
20% of purchases in the U.S are automotive-related.
Chicago alone has 10,000 repossession opportunities each night.
2019 had 2.4 million car repossessions. 600,000 more than in 2017.
Over 6 million people are behind on their car payments.
Final thoughts
In general, loan debt levels in the United States have risen dramatically since the recession in 2008. Lenders are looking at a variety of ways to reduce costs and enforce the collection of loans that are not being paid regularly. One such way is car repossession.
The legal system in the United States has a number of checks and balances in place to make sure that people who have their cars repossessed have been given their fair shot. Of course, there are always loopholes in every law and regulation, but statistics indicate that many people do not take advantage of these services when relevant.